As organisations use more and more software applications, it gets harder to avoid wasted spend
Formal approaches such as ITAM and ITIL Asset Management support optimisation through:
Inventory of software installations
Mapping of software licenses to users & roles
Accounting of software license assets
Analysis to identify potential optimisations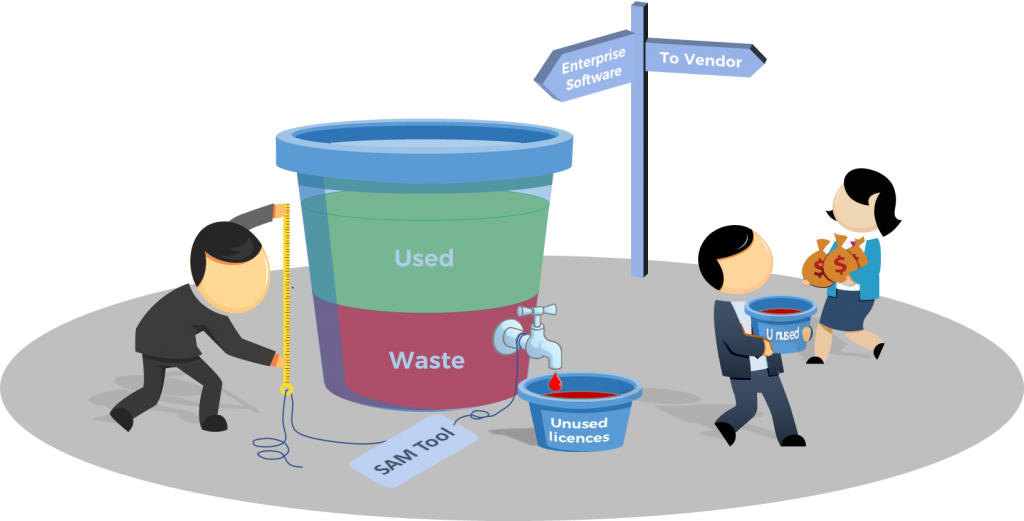 Many organisations utilise Software Asset Management (SAM) Tools, which are efficient at optimising the inventory of on-premise software.
of IT budget spent on software licensing
increase in enterprise software spend in 2019
potential to cut enterprise software costs
The ongoing shift to Cloud-delivered Software-as-a-Service (SaaS) applications makes optimisation even more challenging.
Previously, enterprise software was selected by the IT team in a formal procurement process, and deployed by IT into infrastructure they directly controlled.
Today, focussed SaaS applications can be selected and deployed by departments or teams without involving the IT team, and paid locally from department budgets or via expenses.
The major enterprise vendors have themselves migrated to SaaS delivery, but the ease of SaaS adoption means many more applications in use than ever before, and the IT and Finance teams have much less visibility into what is in use and minimal control.
The result is rapidly increasing uncontrolled spend, multiple overlapping applications performing similar functions across different teams, and abandoned SaaS subscriptions continuing to bill every month. 
SaaS can be hugely beneficial to the organisation, but unless managed carefully it will lead to wasted money and employee confusion.
Even worse, SaaS software is not installed where traditional SAM tools can find it to build inventory and optimise spend.
SAM tools build inventory by examining software installed on the users' computers. But most SaaS is accessed via a web-browser so it goes unnoticed.
The optimisation problem just got a lot harder and the quality of data you have to work with is greatly reduced.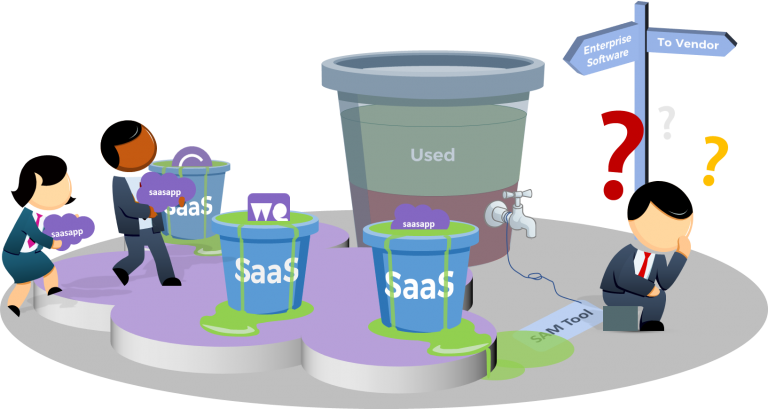 Do you know all the Cloud applications that have been adopted across your organisation?
The SaaS vendor knows exactly who has signed up, and they will continue to bill each month without fail – but they're unlikely to tell you which subscriptions are not fully utilised.
SaaS economics encourage a move away from integrated software suites to a large number of individual SaaS apps from many vendors. This makes it much harder to negotiate savings and quickly reduce software spending. 
SaaS is a massive challenge for asset managers and SAM tool vendors.
Without a trustworthy mechanism to find and understand all the SaaS in use, it will be impossible to manage your software assets.
Can your SAM tool identify....
Understand why users have adopted specific SaaS – and does it have a business benefit?
Do you understand the contractual obligations for hundreds of SaaS EULAs?
Identify abandoned SaaS subscriptions that are still being paid for.
Automatically build a trusted SaaS Inventory
New SaaS applications and vendors as they are used.
How your users really use SaaS through detailed traffic analysis.
Uncover all your SaaS vendors contracts – not just the ones procurement knows about.
Understand who is using which SaaS applications, how much – and why.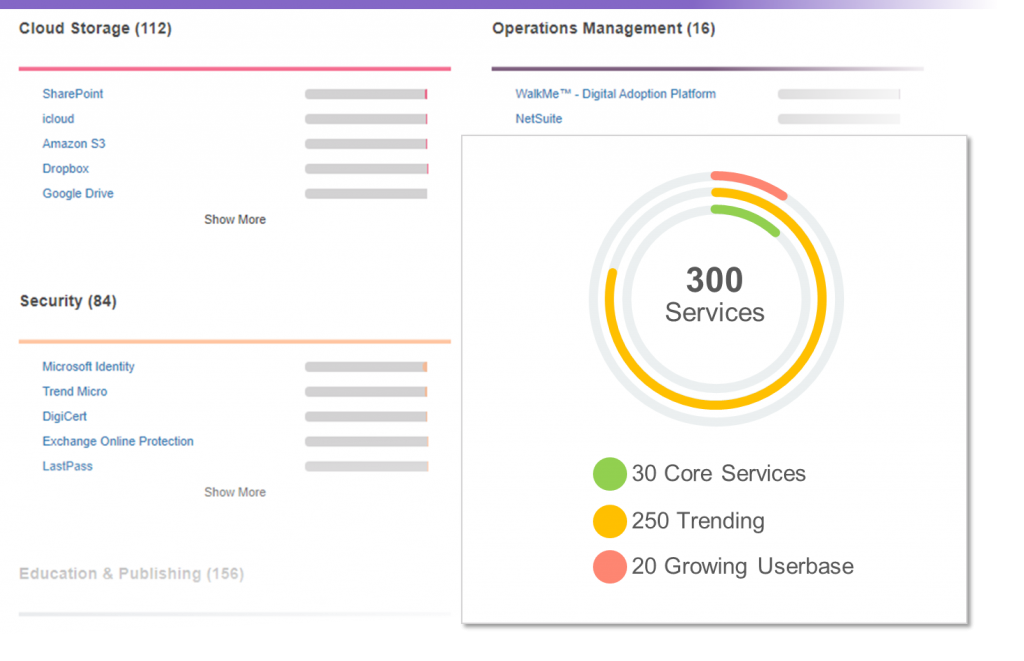 Automatically provide an inventory of SaaS your SAM team can use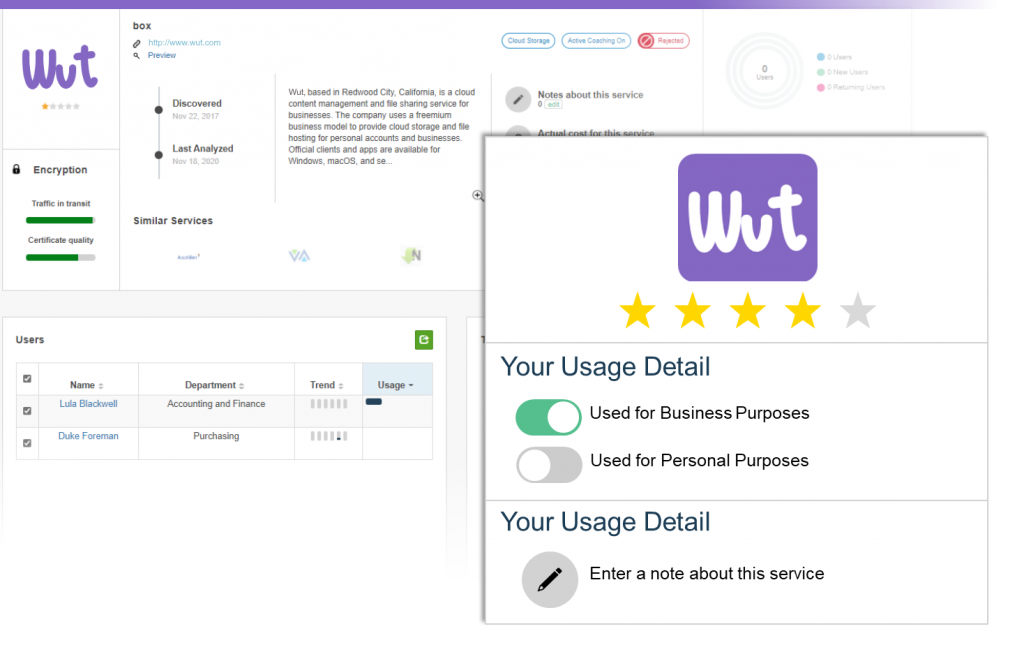 Identify newly introduced SaaS that overlaps with pre-existing applications
SaaS subscriptions that are unused or under-used.
 Engage with your users to gather feedback on every SaaS application.
The specific benefit a SaaS app provides to your users
Automatically extend the reach of your existing SAM Tools
Build a normalised inventory of all SaaS that your existing SAM Tools cannot discover.
Export discovered SaaS inventory in a format compatible with major SAM tools.
Integrate an inventory feed directly into SAM tools using industry standard API.